Product Features:
Produced of pure steel (the effect of temperature on the behavior of dampers is low).
Adding the steel brace frame or RC wall does not affect the interior space, appearance, or access flow .
Material produced by ASTM A36, A572 Gr. 50 or LYS100 that underwent heat treatment and which is familiar to architects and engineers is used.
Reduces the possibility of resonance by changing the rigidity of the building.
Takes advantage of flexural deformation to dissipate the energy produced by the shaking sustainably.
Reduces the building's lateral displacement, inter-storey drift, and torsion effect by providing extra rigidity.
The more severe the earthquake, the better the energy is dissipated.
Easy to inspect and repair after installing.NADAS (Yielding Energy Dissipation Device).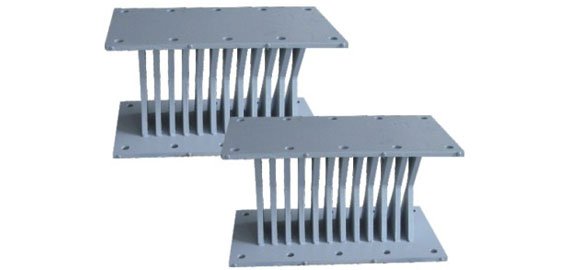 ---
NADAS:
Main Components:
NADAS is composed of several X-stiffening plates connected by two base plates. The combination of the steel brace frame and the NADAS can be classified as a stiffening damper. NADAS is installed at the top of the concentrically steel brace frame. When the brace is subjected to pure lateral force, bending will occur at the stiffening plate. An example is the parking lot of the Pingtung County Government.
---